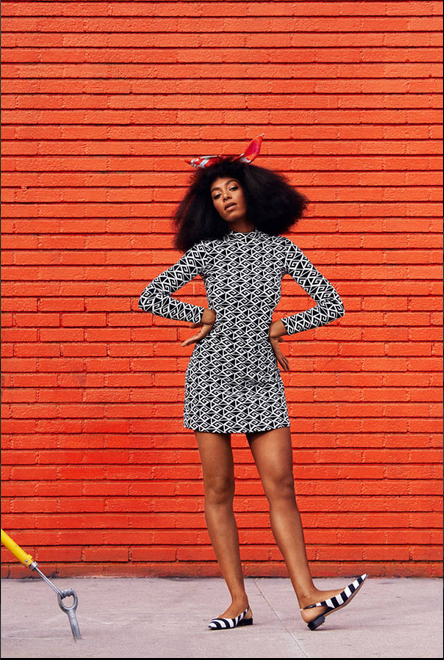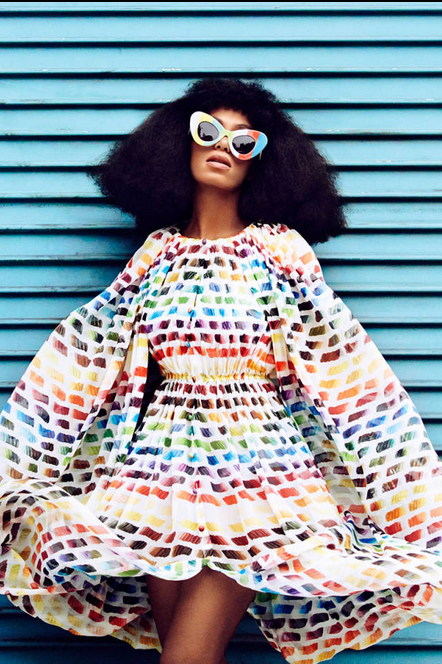 We love Solange Knowles' shoot with Harper's Bazaar.
After the breakup she relocated to L.A. with Julez, and recorded a more adventurous second album, Sol-Angel and the Hadley St. Dreams. Filled with eclectic R&B, Motown, and blues influences and an equally diverse crew of collaborators including Cee-Lo Green, Pharrell Williams, and Mark Ronson, the record earned nearly unanimous critical praise, and even broke the Top 10 on the Billboard 200. Its success signaled the arrival of a new, liberated Knowles. She also revamped her wardrobe. Gone were the gaudy pink ruffles and awkward fedoras of her Solo Stardays, and in came a playful mix of bold prints and saturated colors, always accessorized with killer shoes and her now signature red lip. "You can pull images of me from seven to 14 years ago and I was absolutely nuts," she says. "I have always been drawn to interesting pieces and colors, but I didn't quite know how to limit myself and make those statement pieces work." That epiphany took one simple thing: having a closet of her own, which she got when Julez started school in L.A. "I had to stabilize our lives and stay in one place," she says. "It sounds silly, I know, but having space for my clothes made a huge difference. I was able to get organized, free myself of clutter, and develop a style that felt like me."
Peep the entire interview HERE.